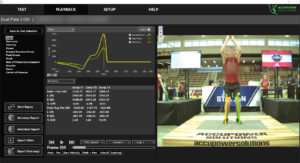 AccuPower Software Dual Plate data collection capabilities allow for a robust analysis of lower extremity symmetry!!
The best force plate analysis software for sport biomechanics is now better than ever!!  AccuPower Software 3.0 will collect data from two force plates simultaneously.   AccuPower Software's robust analysis provides reliable calculations of symmetry for Force, CoM Velocity, Power, Rate of Power Development, and Rate of Force Development during jump, landing, or weightlifting movements.  
AccuPower 3.0 is compatible with ALL AMTI Force Plates and offers more test options.  A feature-rich graphics display allows for immediate ispection and easy presentation of key results. AccuPower 3.0's on board high speed video integration unleashes the power of visual representation of 3D forces in an immediate video enriched analysis.
---
 9 Available Test Types with Full Analysis
Countermovement Vertical Jump and Long Jump
Drop Landing and Drop Jumps
Repeated Jump/Hop Tests
Isometric Mid Thigh Pull Test
User Defined Test
Forces Only
Data Collection Features
Robust serial communication protocols to ensure optimum data collection performance
Interfaces to all AMTI force platforms – including AccuPower, Mini-amps, Gen 5 amps, and AccuGait (AccuGait not recommended for impact landings)
Supports sample rates up to 2000 Hz
User-defined collection time, sampling frequency, and filename tags available
Data Saving Features
Provided access to the raw data for importing into a 3rd party software for batch analysis.
Raw channel data are archived
Auto-Save features allow data to be saved automatically and file names auto-incremented.  Data are always saved and never overwritten
Data can be collected, saved and viewed with user-specified low-pass data filters (Butterworth or Critically-damped).   Data can also be collected, saved and viewed with no filter.
Movement Based Triggers for Data Collection
The software will initiate sampling based on logical events during the movement cycle.  This feature allows for synchronization of time series data when viewing the results of two trials.
Take-off (when the subject leaves the plate) for Jump and Hop Tests
Landing (when the subject lands on the plate) for Drop Landing and Drop Jump Tests
+ or – 15% Bodyweight
+ or – 10 lb change in force
Movement of displacement sensor (Olympic Lifts only)
No movement trigger: Sampling will start with click of "start" button and continue for a specified time
---
Analysis Features
 A full featured graphics display tool allows for easy visualization, printing, and sharing of key results immediately following each completed trial.
Click / Drag to zoom in on any portion of the graph
Click on any data point to display X and Y values of selected data
Drop-down menu displays data for each movement cycle
Export and customization features allow each graph panel to be exported as images directly to Power Point or as Excel-ready ascii files
Time Series Data
Fx, Fy, and Fz for each leg
New Right-Left Fz comparison
Center of Mass (COM) Velocity
Right-Left Power Comparison
New Summed Fz with Rate of Force Development (User Defined Feature)
File Overlay
Allows two data points to be displayed and compared together.  The summary table calculates percent difference between each summary calculation -allowing quick and useful comparisons of calculations between any two tests.
Test Summary
Peak and Average Power for the Test Sequence
Total Negative and Positive Work
Percent Decline in Peak Power
Peak and Average Jump Height
New Rate of Force Development
New Reactive Strength Index (Drop Jump Test)
New Takeoff Velocity
New Flight Time
New Jump Height by Flight Time
Movement Cycle Calculations
Rate of Power Development (Slope of Power Curve from Negative Peak Power to Positive Peak Power)
Work (Negative and Positive)
Jump height or Drop height (Based on takeoff velocity and flight time)
New Rate of Force Development (Isometric Lift)
New Reactive Strength Index
---
Q:  What are the computer specs for running AccuPower?
A:  The minimum specs to run AccuPower Software without video integration are:
Windows 7/8/10 (32 or 64 bit)
Intel i5 at 1.8 GHz or AMD equivalent processor speed
2 Gb or greater RAM
128 Mb graphics card, 16 color, 1024 x 768 resolution graphics card
500 Mb Hard Drive Space recommended.
Q:  Can AccuPower Software run on a Mac?
A:  AccuPower software is a Windows software and is not compatible with Apple OS.  Parallels software should not be used.  AccuPower will not work on Macs
running Windows emulation software.
Q:  Who uses AccuPower Software?
A:  AccuPower Software is used by research universities, elite sport teams, and performance training centers worldwide.  AccuPower Software 3.0's on board video integrations offers educators a robust solution for classroom, lab, and research environments.  The AccuPower Software 3.0 solution provides coaches and trainers a simple, streamlined and efficient process for reliable force plate data collection and presentation of a robust, integrated analysis regarding their athlete's performance to key stakeholders.  See our customer list to see who is using the AccuPower solution!
Q:  How do I contact an AccuPower Software rep?
A:  Use the contact us page and one of our team members will contact you within 48 hours.
Q:  Can I get a demonstration of AccuPower Software?
A:  Yes! If you contact us an AccuPower Software representative will contact you to arrange a demonstration. We can explain our solutions via an online meeting.       To explore the possibilities, consider viewing our blog to learn how organizations like yours are using AccuPower Software solutions.
Q:  Can I get a trial version of AccuPower Software?
A:  Yes! For customers that own an AMTI Force Plate, we offer trials of AccuPower software for connection to your plate.  However, we request that you to contact us to arrange your trial download, so that we can advise you on the proper trial version and to ensure that you are well supported throughout the trial period.
Q:  Do you have a price list on this website?
A:  You won't find a price list on our website. The reason you don't see a list is because the price you pay will vary depending on the solution best for you.  We request that you first contact us to allow us an opportunity to help you discover the best solution for your situation.
We understand that no two customers' needs are identical.   We will work closely with our customers to help identify the best possible solution for their specific application.  We pride ourselves in ensuring that each customer is able to maximize the value of their AccuPower system.  Contact the AccuPower Solutions Team and discover your OPTIMAL SOLUTION with AccuPower and Dartfish!!