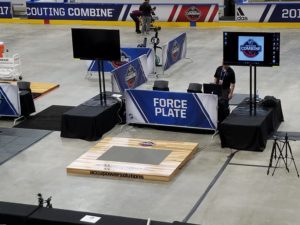 AccuPower Software 3.0 was designed specifically for large-scale sport performance testing of athletes and enables robust  testing, analysis, and reporting of explosive jumps, landing dynamics and Isometric or Olympic lifts.
Force Plate Testing for Sport
Coaching has always been part science, part art.
AccuPower Software 3.0 has been developed to capture Research Quality Data 3-D force plate data and high speed video in a quick and useful manner – focused on applying that data to optimize performance and minimize injury.  The AccuPower dual-force platform system  has been designed and optimized for sport performance analyses.  The outcome of successful force plate testing should be a useful analysis helping coaches make better decisions with training their athletes.
AccuPower Software 3.0 provides 3-dimensional force measures with real time video integration at up to 200 frames per second, offering a seamless visual solution for analyzing athlete performance.  The analysis is extremely reliable, customizable and open source – there is no "black box".  We've conducted a rigorous assessment of the reliability of the different tests – and we're happy to report that intraclass correlation R-squared values for many of the measures are .92 or better.
Using AccuPower 3.0, coaches can quickly provide a customized, integrated analysis that is focused on data relevant to issues of most importance:  symmetry of force and power production and changes in athlete performance over time.  We will help identify which tests can be done efficiently within your workflow and streamline the data collection process and analysis to your needs.
With AccuPower's reporting tools, Strength Coaches and Trainers can speak immediately to athletes, coaches, and front office personnel regarding health or training status of their athletes. The value created is the complex analysis of reliable jump and landing data provided and reported within seconds of completing the test.
AccuPower 3.0 has distinct advantages for Strength Coaches and Trainers, including:
3D Force Measurement with integrated high speed video, critical to understanding common injury mechanisms
Competitive pricing, no subscriptions.
System is highly customizable–allowing user to develop reports and video replay tools that focus only on data relevant to issues of most importance.
Our team has over 40 years of experience applying force plate data analysis in the training of world class athletes, applied biomechanical research, and education.
Seamless integration into current location workflow.
Full complement of Jump, Landing, and Lifting test types with full analysis of force, velocity, power, and bilateral symmetry.
The AccuPower solution is the industry standard in the measurement of force, velocity, and power for any activity that can be performed on the force plates. For this reason, the AccuPower solution has been used in nearly 140 peer-reviewed research articles.
AccuPower has been refining force measurement methods used in explosive movements  for 15 years.
The AccuPower solution provides users with access to the raw data for importing into enterprise analytic systems or other 3rd party software for batch analysis.
We pride ourselves in ensuring that each customer is able to maximize the value of their system.  Simply put, our goal is to ensure that you and your staff can utilize the system effectively on a regular basis to support your athletes.
---
Is a 2000 lb Vertical Load capacity adequate for all testing situations?
In most situations, yes.  Peak Ground Reaction Forces for the most explosive jump or landing events are less than 6x BW.
Why use the AccuPower Force Plate?
AMTI's AccuPower Force Plate was specifically designed for evaluation of explosive movement.  AccuPower has the largest measurement surface on the market and incorporates Hall Effect sensors.  Hall Effect sensors offer two distinct advantages:  will not be damaged by high impulses from an accidental overload and provides for minimal drift.
Who uses AccuPower Software?
AccuPower Software is used by research universities, elite sport teams, and performance training centers worldwide.  AccuPower Software 3.0 provides coaches and trainers a simple, streamlined and efficient process for reliable force plate data collection and presentation of a robust, integrated analysis regarding their athlete's performance to key stakeholders.  See our customer list to see who is using the AccuPower solution!
Can we count on AccuPower Solutions for support or assistance following on-site services?

YES!!  Help is always just a click or call away.
How do I contact an AccuPower Solutions expert?

Use the contact us page and one of our team members will contact you within 48 hours.
---
Contact the AccuPower Solutions Team and join the growing number of Elite Sport Teams who value AccuPower's ease of use and reliable, video enriched analysis!
Today's Sport Scientists and Sports Medicine professionals know that reliable measurements of 3-dimensional forces are essential to monitor performance, assess potential risk of lower extremity injury, and track the effect of training interventions. For more than 15 years, AccuPower has been developed and refined by sport science and sports medicine experts, including input from some of the world's leading sport scientists.
AccuPower 3.0 software was designed specifically for large-scale athlete testing.  Beta versions of this software were utilized at the Army National Underclassmen Football Combine in 2010 and the National Hockey League Combine in 2017.  Over 500 American Football players were tested in four hours!  Several AccuPower units are in use by professional sports teams, NCAA Division 1A programs, sports medicine hospitals and elite training centers.
Key Testing Features
Easy Management of Subject Demographic Data.
18 Jump, Landing, and Lift Test Types
User-Defined / User-Defined with Load Tests with Analysis
Quick and Easy Graphical Display of Data Calculations to Provide Immediate Feedback to Athletes On Screen or Color Hard copy
Data saving format optimized for import into Enterprise Analytic Systems such as CoachMePlus, Edge10, or Kinduct
Real-time video integration provides unparalleled visual feedback so athletes, coaches, and students can easily understand how technique may relate to performance or injury risk.