AccuPower Solutions owns, develops, and sells easy-to-use software that captures, analyzes and saves 3D force plate data and integrates that data with 2D high speed video.  AccuPower Solutions does not manufacture any hardware for this solution, but is a reseller of  force plates and  cameras used.
AccuPower Software was originally developed for and continues to be packaged with the AccuPower Force Platform system sold by Advanced Mechanical Technology, Inc. (AMTI) based in Watertown, MA.  In 2014, development efforts were re-energized to improve features of the software to expand compatibility with all AMTI force platforms and dual force platform configurations.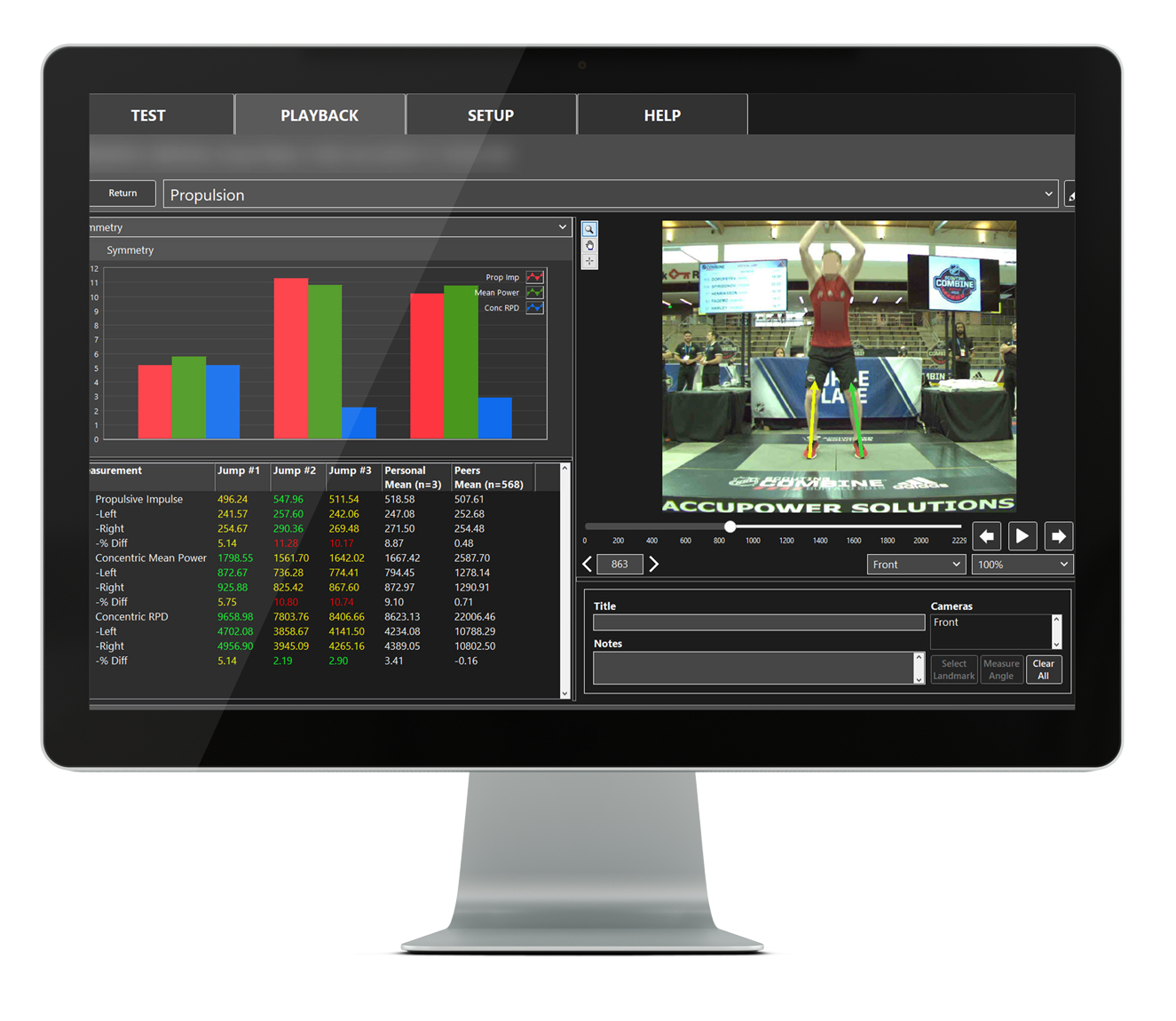 In 2017, AccuPower was migrated to a completely new platform,  allowing us to merge with new and emerging technologies.  The new platform includes onboard  video integration at up to 200 frames per second.  The analysis is extremely reliable, customizable and open source – there is no "black box".
AccuPower 4.0 is now available and includes a more robust customization of the Dashboard.   A locally stored ODBC compliant database, allowing for for real time between and within subject statistical analysis and easy sharing of data to 3rd  Party Software.  Drawing tools for adding joint angle measurement and  notes/comments to any video frame create a robust and instantly generated .pdf or Word format report.
The company has seen significant growth, and expects that rate of growth to continue as new capabilities are added.  We work with clients from professional sports franchises, university exercise science and research departments, physical therapy clinics, and university strength and conditioning programs to help each provide a robust, streamlined process for delivering force plate analysis.
Mission Statement
Exceed client expectations by going beyond the development of the world's best software for Sport Biomechanics to providing our customers with streamlined workflow solutions that transform data into knowledge, enabling our customers to solve problems and better serve their athletes or students.  We translate software solutions into value for our customers through our high-quality products, workflow design, and exceptional customer support.
Core Values
Integrity: Honesty and doing the right thing in all that we do.
Customer-centric: In an emerging field, we MUST listen to our customers and develop software and solutions based on the expressed needs of our customers.
Agility: We will respond quickly to customer needs and software changes.
Quality: We commit to excellence by providing quality software products and going beyond software to provide superior professional service and support.
Detail Oriented: We commit to software products that conform to best practices in data collection and analysis, thus providing our customers with a valid, reliable, and stable solution.